Name:
Chris (38), Christopher (9) and Lydia (8)
How long have you been climbing?
We started climbing as a family about one year ago.
How did you get into climbing?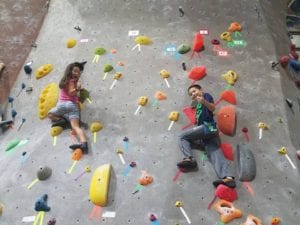 I was looking for something that I could do with the kids that would get us out of the house (and eventually outside on rock) and get us active. I tried climbing a few times when I was younger and really enjoyed it, so we decided as a group to come out to VR rock and give it a shot.
What do you love about climbing?
Firstly we love the fact that it is something we can all do together. We typically spend a lot of time bouldering then will move to the big walls. Honestly sometimes the kids can climb better than me. The physical aspect of it is also great in that you get out of the house and away from the video games and other things, and instead you get a great workout in. Finally the puzzle solving is also fun. Looking at a challenge together and trying to figure out how we will get past a certain point, really can challenge all of us to think outside the box. How has climbing helped you in other areas of your life? For me in particular, this has served as an incredible stress relief and an extraordinary opportunity for bonding with the kids. We climb once or twice a week if we can, and wish we could do more! Just this past weekend we finally got outside and got the kids on some real rock, which was awesome. This gave us a great event to plan to, got us outside and active, and it was really a fun experience. Honestly, rock climbing has really helped bond me with my kids (you gotta do it together).
What you love about the Vertical Rock Community?
The people. Everyone is very friendly. Sometimes it can feel overwhelming to begin something new or to try something new, and climbing is no different. The difference at VR is that the staff and other climbers are all supportive and friendly, regardless of your skill level. We will regularly strike up conversations, with people we don't know, and just start talking about different routes and how to get up the wall. It is great to meet new people Any helpful advice for new climbers or families wanted to get active together? Just do it. Get out there and try it. When I go with my kids and don't have anyone to belay me, but we just focus on bouldering. You can make it work and it is worth it! Start it and try it regularly for a couple of times and the next thing you know, you will be craving the time together and the time on the wall. God Bless!!!