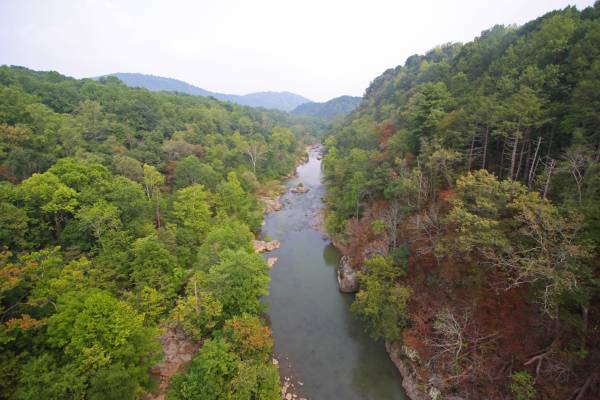 Roanoke River Gorge is a gorgeous outdoor escape just a few hours drive away.  The area boasts routes ranging in difficulty from 5.7 to 5.12 and from 50 to 90 feet tall.  Very old, weathered, sharp, and difficult-to-read rock quality abounds, but the loose exterior reveals quality technical face, dihedral, roofs, slabs, and handcracks as well.  This park offers at least 10 established routes and options for Sport, Mixed, Trad and Toprope climbing.
If you're looking for a little getaway, you could do a lot worse than Roanoke River Gorge.  The area features great camping, hiking, and rafting diversions as well.
Directions: Take I-66 W to I81 S.  Take exit for I-81 S (41.4 miles).  Take exit 150A for US 220A S toward US 11/Troutville/Cloverdale.  Continue on US-220 ALT S.  Take Blue Ridge Pkwy to Roanoke River Pkwy in Vinton.  Merge onto US-220 ALT S.  Turn left onto US-460 E.  Take the Blue Ridge Pkwy exit.  Turn left onto Blue Ridge Pkwy.
Take Blue Ridge Parkway to milepost 115 and park across the street from the Explorer Park entrance.  Take the trail from the back of the parking lot and continue under the bridge (downstream).  You can access the lower trail by walking off the back side of the Roanoke River overlook or the upper trail by veering right on all trail forks until the trail parallels the top of the cliff, at hich point you must veer left until you reach the descent gully under the cliff face.