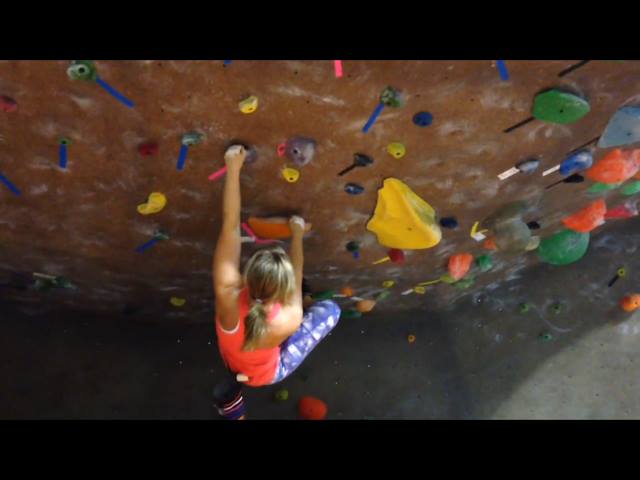 How long have you been climbing?
I've been rock climbing for almost 2 years, but I didn't start until I was 45!
How did you get into climbing?
I started climbing on rails while taking adult parkour classes. Unfortunately, parkour exacerbated an old injury, and I ended up needing my right knee replaced. A friend suggested I try rock climbing. The first time I stood in front of a rock wall I asked, "Ok, what do I do?", and I've never looked back. Unlike most beginner climbers, I started with bouldering and it's what I like the most.
What do you love about climbing?
I love that it's a full body, mind-engaged sport. I love that it's a fitness activity you can practice your whole life. I love that it can be solitary or social, indoors or out. I love that it has tremendous variety, and is different every time you do it. I love thinking and working through challenging moves, and coming up with solutions for my body type and level of strength. I love that although I will probably never climb V5+ routes, I can make measurable improvements and find personal successes. I even love my awesomely ugly, calloused hands!
How has climbing helped you in other areas of your life?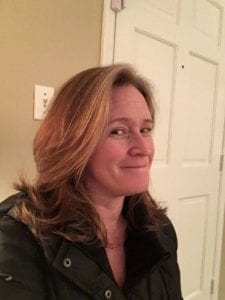 After I found out I needed a new knee, my ninja dreams were pretty much shot, and I didn't think I'd find something I loved as much as parkour. The rehabilitation period for knee replacement surgery is long and difficult, even for an active person. I've slowly progressed with climbing while minding a serious physical constraint, but I've also been able to keep pushing myself in a way no amount of squats in physical therapy can. Badly wanting to grasp that next hold will do that for you. Climbing has made me not want to give up, give in, or "settle". I don't want an exercise program just for the sake of exercise — what a boring existence! Now my training is geared toward making me a better climber. Climbing is also terrific for facing your fears — I'm afraid of heights! I keep putting on that harness though, because roped climbing offers so much more of what I already love.
Any helpful advice for new climbers?
#1 | Traverse, traverse, traverse. Nothing builds strength, stamina and tough hands like regular traversing. Going up is not the only thing that defines "climbing". Traversing provides experience with all kinds of hand and footholds, body and balance positions, and dynamic moves without the element of height. It's a great warm up, too. Set routes aren't required — just get on a wall and start climbing across it.
#2 | The top of a route is a great goal, but you don't need it to work towards graceful, powerful, natural movement. I don't often boulder high because I have to be extra careful of fall impact, but I don't let it stop me from trying sections of more difficult routes. I've learned a lot about climbing technique from climbs I never saw the top of. Don't discount the benefit of a challenge just because you think you can't finish the problem.
#3 | Watch other climbers and ask questions – which leads into the last question..
What you love about the Vertical Rock Community?
Climbers are just cool people, and I've met folks from all over. The Vertical Rock community is genuinely encouraging no matter your level or age. The route setters keep things interesting and the staff is helpful and enthusiastic. I've gotten advice and high fives from the 10 year old competitive crusher and the older sage who started climbing before rock gyms even existed, alike. Whether you're there trying an open climb for the first time, meeting a group of friends, escaping the office on your lunch break, or coming in with your family, it's a welcoming, fun atmosphere.