Outdoor Summer Camps
Vertical Rock Outdoor School LLC (VROS) introduces our Outdoor Day Camp "ELEVATION"
"ELEVATION" is a 5 day climbing camp that is a great way to get into the sport of outdoor rock climbing. Day campers will learn techniques, mechanics of rock climbing and an appreciation of the environment.
The camp takes place at four different climbing areas: Carderock, Great Falls, Elizabeth Furnace and Vertical Rock. Campers will experience all 4 climbing areas and will also learn how to identify the types of rock, flora/fauna, and other awesome facts about the area they are climbing in! An emphasis on the "Leave No Trace and Minimizing Climbing Impacts" principle are integrated into the program.
*Camp meets at 8:00 AM Monday through Friday at the VR Facility. Please arrive a few minutes early so we can leave as soon as possible to go climbing!
Spaces are limited. Please book your spots ASAP to get the date you request.
Discounts are available for multiple siblings registered on the booking page.
Transportation from Vertical Rock to the crag, rental harness and supervision are included.
2019 SESSION DATES: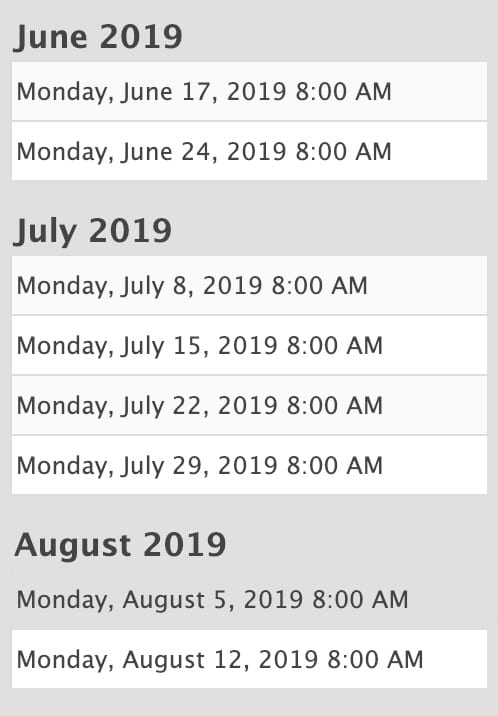 Note:
When selecting the date desired for your session, you are booking the full 5 days of the camp.
All Participants must have a (VROS) Vertical Rock Outdoor School E Waiver filled out by a parent or Legal Guardian on or before the first day of camp. Please click on the sign our waiver link on the home page of our website or: CLICK HERE FOR THE WAIVER LINK!
Duration
Times
Cost
Min. Age
5 days (Mon -Fri)
8AM – 3PM
$395 per session
9
-

-

-

-

-

-

-

-

-

-

-

-

-

-

-

-

-

-

-

-

-
-

-

-

-

-

-

-

-

-

-

-

-

-

-

-

-

-

-

-

-

-
You have no events for this day
You have no events for this month
You have no events for this month
stec_replace_image
stec_replace_icon
stec_replace_summary
stec_replace_desc_short
Expired
In Progress
stec_replace_location
stec_replace_timespan
Invited
stec_replace_guest_name
stec_replace_product_name
stec_replace_location
stec_replace_date
RSVP to Event
Event Info

Location

Schedule

Guests

Attendance

Shop

Forecast

Comments
stec_replace_description
stec_replace_title

Organizer of stec_replace_event

stec_replace_about
0

days

0

hours

0

minutes

0

seconds
Event expired
Event is in progress
Location
stec_replace_location
Get Directions
Could not find route!
Details
stec_replace_details
No schedule
stec_replace_date stec_replace_time
You are invited to this event!
Places left: 0
stec_replace_name
stec_replace_product_image
featured
sale
out of stock
stec_replace_product_title
stec_replace_product_short_desc
QTY:stec_replace_product_quantity
PRICE:stec_replace_product_price
Product
Name
Quantity
Price
Action
Weather data is currently not available for this location
Weather Report
Today stec_replace_today_date
stec_replace_current_summary_text
stec_replace_current_temp °stec_replace_current_temp_units
Wind stec_replace_current_wind stec_replace_current_wind_units stec_replace_current_wind_direction
Humidity stec_replace_current_humidity %
Feels like stec_replace_current_feels_like °stec_replace_current_temp_units
Forecast
stec_replace_date
stec_replace_icon_div
stec_replace_min / stec_replace_max °stec_replace_temp_units
stec_replace_5days
Powered by Forecast.io