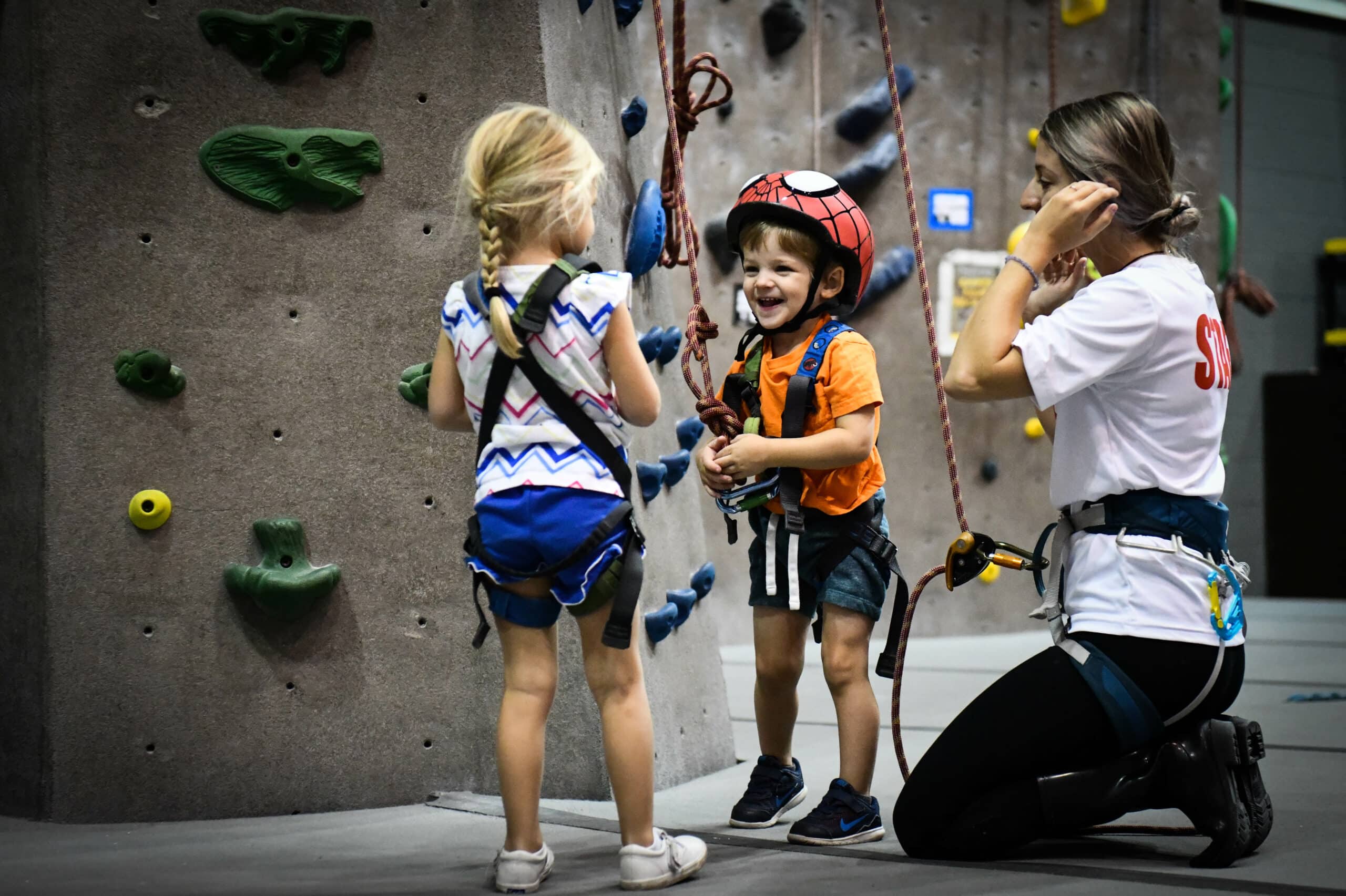 Join a Rock Climbing Team!
Are your children interested in learning how to rock climb? As a parent, you might be worried about your child's interest in climbing. While there are some risks involved in the sport, it's important to remember that there are risks in any sport that our children choose to participate in. 
 Enrolling your child in a youth program or signing them up to participate on a climbing team or take climbing classes can provide your child with a safe environment where risks are minimized, and climbing is supervised by our youth climbing coaches.
Learning the Ropes: Establishing and Reinforcing the Safety Basics
 Inexperienced climbers looking to learn basic climber safety and build technique can enroll in an Intro climbing class at Vertical Rock Climbing & Fitness to receive expert instruction within the gym environment. The VR intro classes are designed to provide fledgling climbers with the tools and skills necessary to climb safely on their own. 
 Our introductory course will cover the climbing basics, including how to properly tie-in, perform partner safety checks, proper belay technique and safety, and climber communication. This two-hour long class will cover the fundamentals and is great for beginners. We also offer an introduction to bouldering and family classes as well. 
Youth Climbing Team Options
Available for All Age Ranges
Interested in having your child join a climbing team? You're in luck, Vertical Rock Climbing Gym has a range of youth teams including Homeschool Teams which are  suitable for kids of all ages. Our VR Coaches provide a safe environment for children to learn climbing technique, grow friendships through participation in the sport, and learn to climb on the Ropes as well as Boulder.  Did you know Climbing is in the Olympics?  We train all ages in climbing and they have the choice to compete in climbing competitions across the region and country, when they are ready. 
Our Toddlin' Climbing Class is geared towards the youngest age range of climbers and requires parent participation. The next level is Vertical Rock's Scramblers Team, which is tailored specifically for young children. Kids aged 8 and above are welcome to join our Rec Team while the Junior Team welcomes children aged 9 and older with instructor approval based on their climbing skills and techniques. We even offer an indoor climbing camp!
Intermediate Climbing Classes to Advance Your Basic Skills
Vertical Rock also offers classes for climbers who have already taken the basics and are looking to take their climbing to the next level. We offer an introduction to lead climbing class along with a gym to crag class to help transition new climbers from the gym to outdoor rock. These types of classes also give you an opportunity to ask our instructors questions that might help you improve your climbing skill set and technique.
Climbing is a great alternative and supplement to the minimal physical activity within the educational requirements of today's classroom environment. If your child is interested in climbing, climbing teams provide a program where children can expand their skill set under guidance from professionals. Our instructors will help your child build confidence and learn to practice patience both on and off the wall.
 Interested in learning more? Sign up for one of our classes or join one of our climbing teams to build your skills and advance your climbing. Have questions? Come check out the gym, our staff are available to answer any questions you may have.