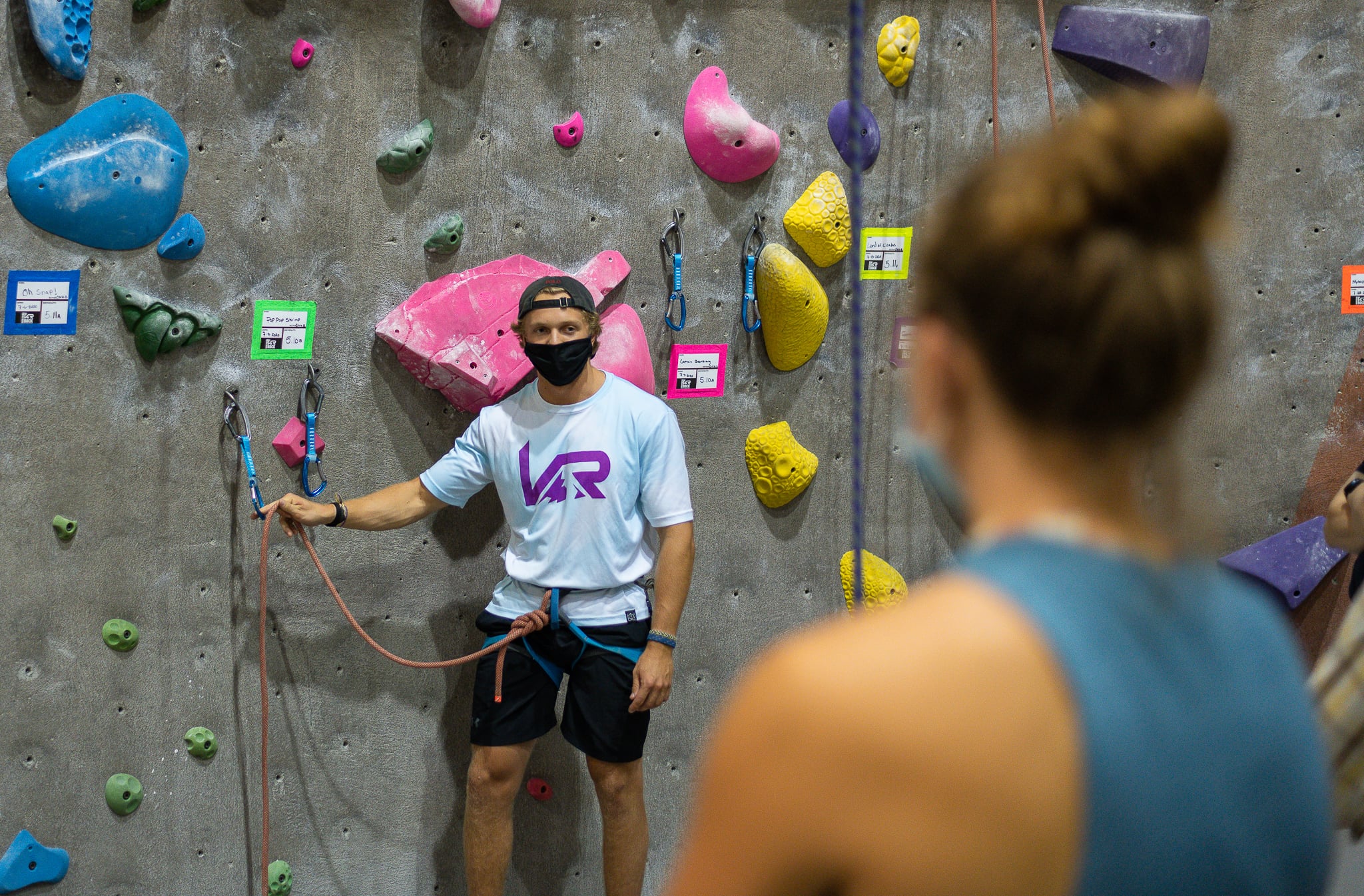 Learn to Rock Climb at Vertical Rock
Local to the Manassas, VA area and looking to learn to rock climb? Vertical Rock can help show you the ropes. We're working to bring the local climbing community together, and our gym welcomes new climbers to join our Basecamp community.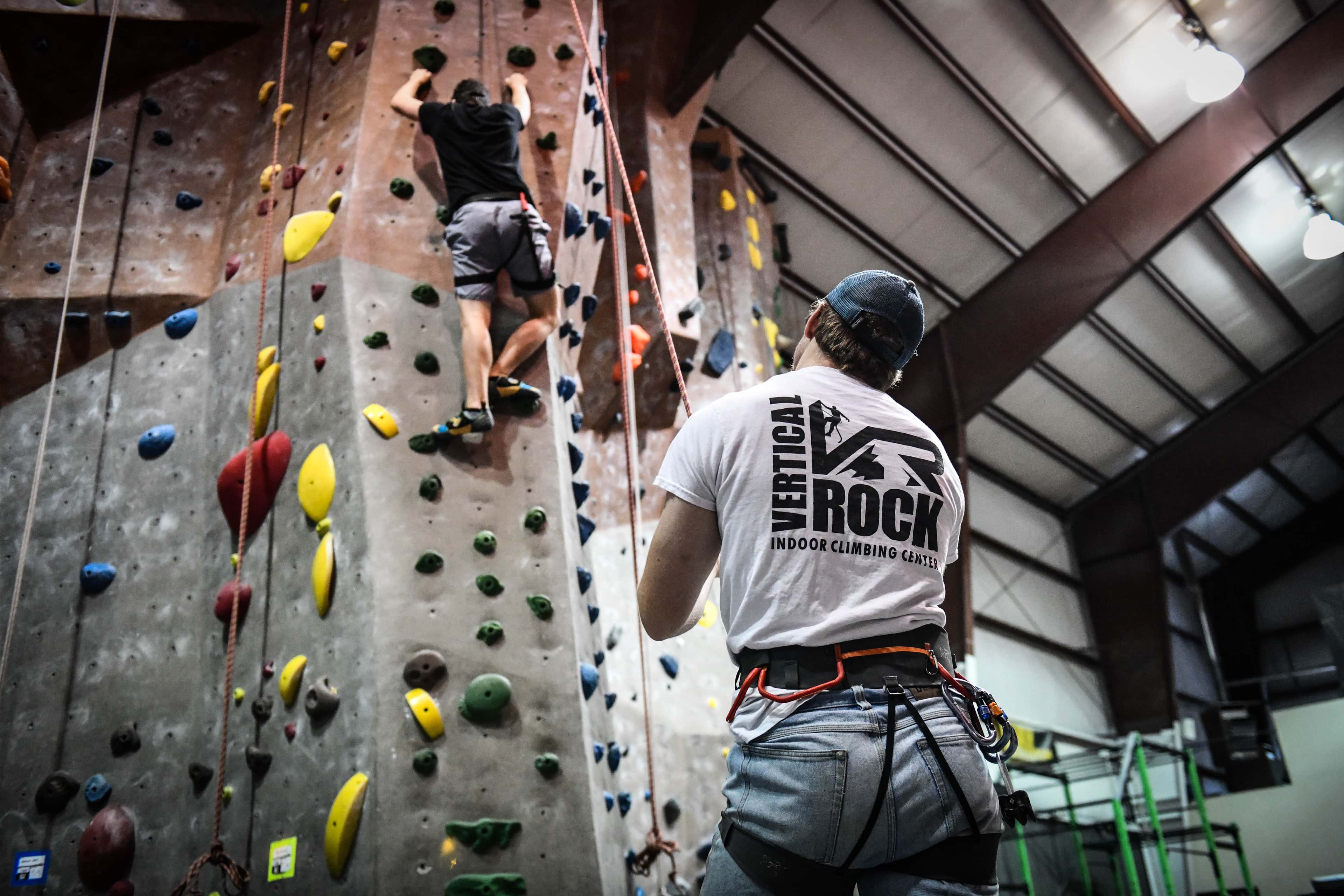 Introductory Climbing Instruction

Learn the basics of safety in our introductory climbing course. Climbing is an inherently dangerous sport and as the climbing community grows, it's become increasingly important for gyms like Vertical Rock to offer budding climbers the resources that they need to safely recreate.
On the Ropes Intro Classes
In our basic intro classes, our instructors will review the basics of proper knot tying techniques and the safety checks that you and your partner should be performing at the start of each climb. You'll also learn how to appropriately belay your partner while they are climbing and how to get them safely back to the ground. Belayer error while climbing and/or lowering can lead to serious injury the importance of learning these skills properly cannot be overstated. Our aim is to educate new climbers so that they can stay safe both in the gym and outside on real rock.
Teaching Top Rope Anchors and Learning to Lead
Anchor basics are extremely important. Your anchor is what keeps your rope your lifeline attached to the rock. Anchor safety is a top priority. We'll teach you how to set up proper anchors on hardware as well as cover how to set up natural anchors in the absence of bolts. Our instructors will also cover how to properly perform anchor checks. 
We also offer an intro to lead climbing class that reviews the basics of proper clipping, lead belaying, rope management, and how to stay safe on the sharp end.
Learn Sport Anchor Basics
Our GTC Sport Anchors class will cover the basics of properly placing quickdraws as well as how to safely clean sport anchors while remaining on belay. Why would you choose to avoid rappelling?
While we can teach you how to rappel and clean, climbing standards have changed over the years and lowering has become the standard in many sport crags across America. The fact is, it's safer than rappelling. For years, rappelling errors have been one of the top causes of climbing accidents across the US. The most recent high profile rappel accident was Brad Gobright's rappel accident in El Potrero Chico.
The climbing community has actively worked to change the standards in sport crags around the country. Knowing how to clean your sport draws without rappelling is an advantageous skill that will help allow you to safely project routes.
Trad Climbing Basics
Interested in learning more about traditional climbing? It can be hard to meet a trad mentor when you're a beginner. Our Intro to Trad Climbing is structured to help seasoned gym climbers transition to outdoor climbing. This class covers sport anchor basics, traditional gear placement, risk assessment, and best practices. 
As spring transitions into early summer and East Coast send temps, there's no better time to learn the ropes and start chasing your goals. Sign up for one of Vertical Rock's climbing classes today.