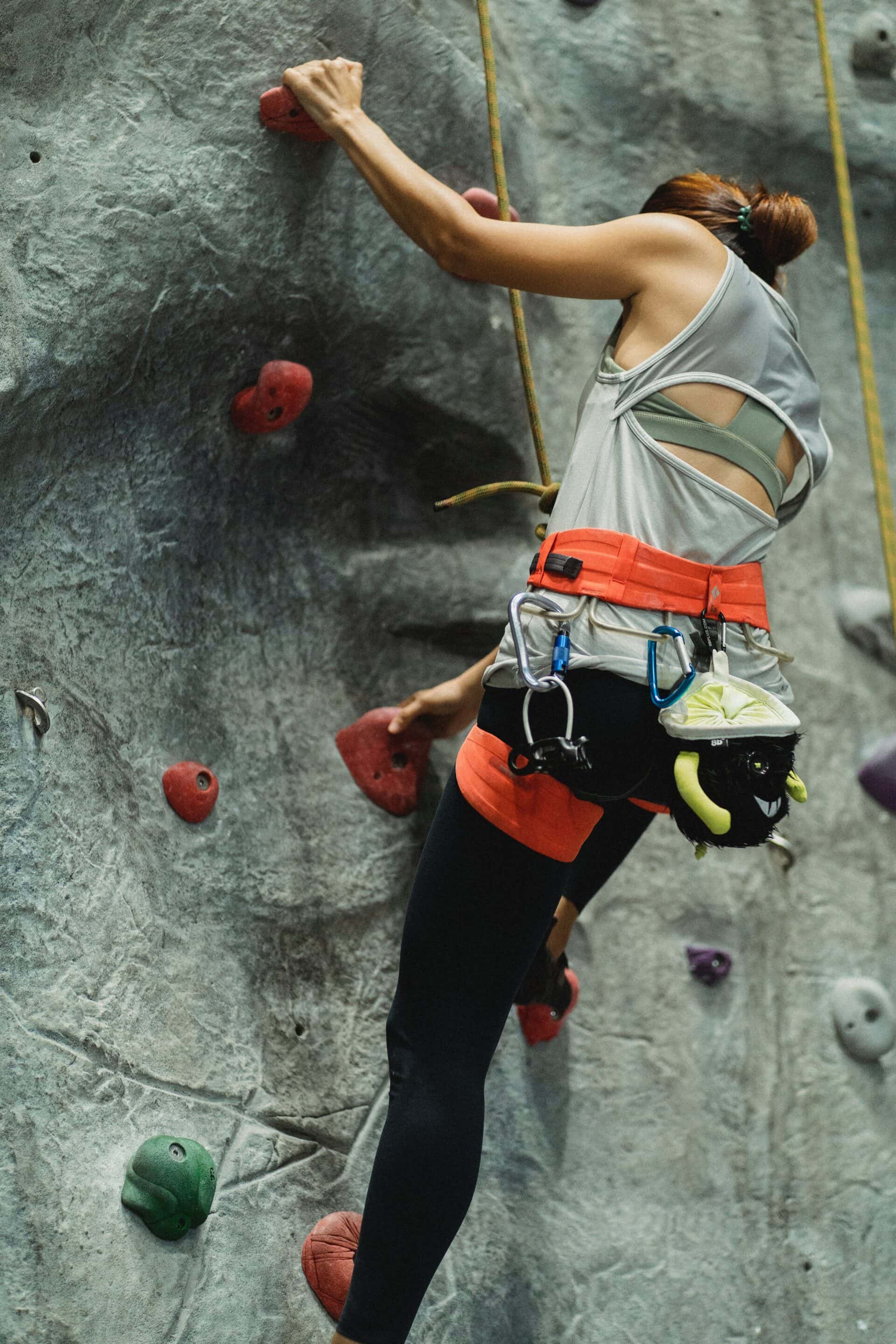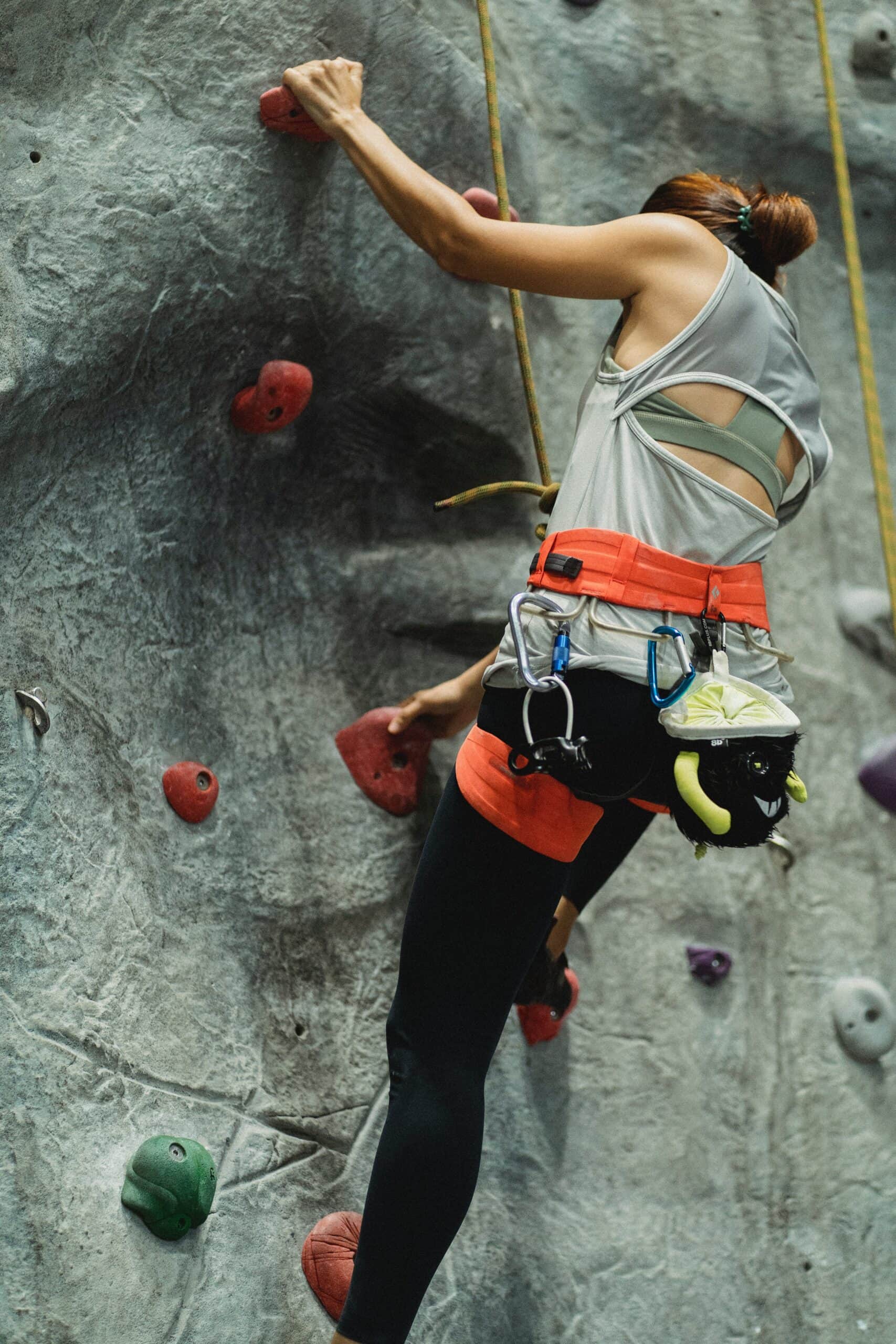 What Are The Necessary Pieces Of Equipment For Rock & Mountain Climbing?
Interested in rock and mountain climbing but not sure where to start? For amateur and seasoned climbers alike, there are basics that make up the essentials of what you need to climb safely and successfully both in the gym climbing environment and outdoors on real rock.
Whether you're looking to get into bouldering or itching to learn how to rope climbing, there are a few things that you'll need to get started for both indoor and outdoor climbing.
The Essentials for (Most) Climbers
From kids climbing gear to adult-sized items, there are a few essentials that most climbers regardless of their favored discipline consider to be essential.
Climbing Shoes
Shoes are one of the first purchases you'll want to make as a fledgling climber. It's wild to think about the old school climbers who established the first moderate rope climbs in leather work boots. Fortunately for us modern climbers, we've now got modern climbing shoes made with rubber.
While Barefoot Charles might consider climbing shoes aid, most boulderers and wall climbers alike consider climbing shoes to be an essential. While there is some debate in the climbing world about street shoe versus sizing down and the type of shoe that you choose mostly depends on the type of climbing you are doing, climbers usually own at least one pair (if not several) pairs of climbing shoes.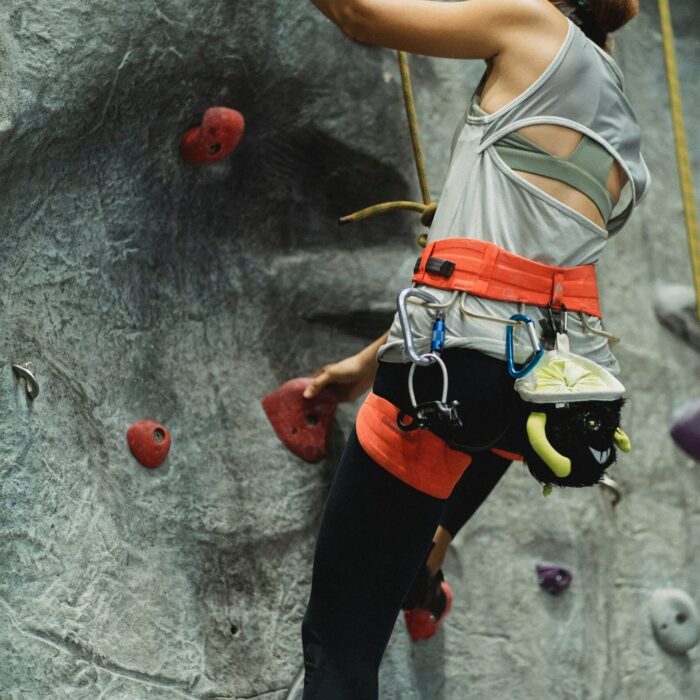 Chalk bag/Chalk
Boulderers and wall climbers alike also usually sport a chalk bag or bucket at the gym and outside. Chalk can be especially useful in warmer conditions and if you're a climber whose hands tend to perspire. Using chalk can help tremendously for gripping rock in summer weather when the temperatures are not ideal for friction on the rock or for when you're working up a sweat on try hard in the local gym.
Climbing Harness
A pre-requisite for roped climbing is a climbing harness. Your harness will have two adjustable leg loops and a waist belt that fits and tightens above the hips. Climbing harnesses are an essential piece of safety gear for wall climbers not interested in free soloing. 
Whether a climber is top roping, on the sharp end, cleaning a route, or rappelling, a harness serves as a secure and redundant point of contact between a climber and the rope. There are many assorted styles of climbing harnesses to choose from and they come in all sizes from child to adult. 
Belay Devices
Another important piece of equipment for roped climbers is a belay device. There are two main types of belay devices—autolocking and non-autolocking. A commonly used non-autolocking belay device is an ATC. For multi-pitch climbers, ATCs are also used frequently to rappel. The Petzl grigri is an example of an autolocking belay device.
Either device works for belaying but the grigri is felt to be a safer option than the ATC (however, you should keep an attentive belay regardless of which device you choose to use). A climber's choice of belay device is usually up to personal preference but some climbing gyms have restrictions on what you can use in the gym. For safety reasons, it is prudent to use a grigri if there's a good weight difference between you and your climbing partner.
Climbing Rope
Whether you're planning to do any mountain climbing and navigating fourth class terrain outside, setting up top ropes at the local roadside crag, or simply looking to get on lead in the gym, you're going to need a climbing rope. There are two different types of climbing ropes, and it's important to know the difference.
Static ropes are meant for top roping and rigging for fixed lines and should not be used for lead climbing. If you're lead climbing, you'll want to purchase a dynamic rope. Ropes come in different lengths and widths. Something in the 9 mm range will serve your purposes. Grigris work best with ropes in the 8.9 to 10.5 mm range. For length, consider getting a shorter rope (30-50 meters in length) for gym leading. If you're climbing outside, you'll look at 60- and 70-meter ropes.
Outdoor Bouldering Pad
If you're looking to boulder outside, you'll need to get a crash pad to do so safely. Bouldering pads are portable and are often carried with straps like a backpack. Bonus: you can stuff your shoes, chalk bucket, water bottle, guidebook, snacks, chalk brush, and whatever else you want to carry with you.
Additional Gear for Outdoor Climbing
If you are looking to build top rope anchors, lead sport climbs, or get into leading cracks, additional hardware and protection is needed. Sport climbers clip bolts with quickdraws, trad climbers place nuts and cams and both climbers utilize carabiners, webbing, p-cord, and other types of soft goods for anchors.
Interested in learning to rock climb in a gym environment or maybe you're ready to take the next step and learn the basics of rock & mountain climbing safely outdoors? Vertical Rock offers introductory classes for climbers looking to get started in the gym as well as those who are looking to transition from indoor to outdoor climbing.